Vicki Browne is the wife of our own John Browne.  I had referenced this article, and then discovered that the link was corrupt.  So, I've reproduced the writeup here.  Scroll to comment #10 for John's contact information:
---
Seeing Things | A Clean Sweep
By
BROOKE HODGE
| September 3, 2009, 4:02 am
Originally published in the New York Times
Seeing Things is a biweekly design column by Brooke Hodge, a design writer and curator based in Los Angeles.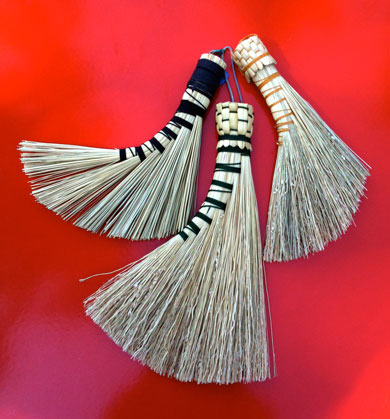 Whisk brooms, called turkey wings for their fanlike shape, handmade by Vicki Browne. Even with the enormous popularity these days of all things crafty, it's unusual to come across someone who makes brooms for a living. Demonstrations at historic sites like Williamsburg and Old Sturbridge Village had been my only exposure to broom making until a recent visit to Vashon, an island off Seattle in the Puget Sound. Vicki Browne, who has lived on the island for 35 years, took up the craft eight years ago after taking a class from a friend there. When he stopped making brooms, she took over."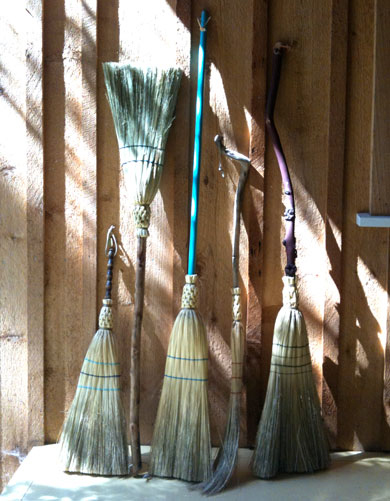 Browne walks the island's beaches to find fallen branches to use as handles. She also fashions handles from found materials like chair spindles or a bright turquoise broomstick unearthed at a junk shop. The bristles are made of natural broomcorn, a variety of sorghum that comes mainly from Mexico. The broomcorn stems are left intact and woven tightly onto the handle, creating a decorative pattern. Then they are flattened and bound with hemp thread in a variety of bright colors, using a long flat needle that is Browne's only industrially manufactured tool. Her brooms include standard sweepers in the familiar flat style pioneered in the 1820s by the Shakers, cobwebbers and fireplace brooms, and a turkey wing, an unusual kind of whisk broom that resembles the actual turkey wings that were often used to sweep hearths in Colonial times. In true craft fashion, Little John Holzwart, a Wisconsin broom maker, passed the turkey-wing technique on to Browne when they met at Vashon's annual Folk Life Festival. Browne's wares are available at the Saturday farmers' market and at Heron's Nest, a craft gallery, both in the village of Vashon.