After I graduated in 1961, I baby sat for a couple of years.  In 1964, I moved to California and married in 1965.  I divorced in 1978 and returned to the Tri Cities where I met and married Bill Muncey (a Kennewick High School graduate) while working for the Richland Post Office.
This September we will celebrate our 32nd anniversary.  We have no children but delightful pets.  Our current dog, a mini dachshund, is 5 years old.  All our pets live long and well!  We has our cat for 17 years and another  dog for 16 years.
I started working for Exxon in March of 1979 and went through 5 changes until I retired from Areva in 2004 after 25 years.  My husband, Bill, had his own business for 18 years.  He had a job placement business, Action Personal Service.  He retired in 2003.
We like to; travel, gamble, bowl and watch Mariner's games.  In 2009 (for our 30th Anniversary), we went on our very first cruise.  We went on the Princess line to Alaska via the inside passage.  It was a beautiful cruise and we hope to go back to Alaska on another cruise next year.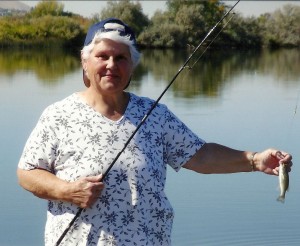 My other hobbies include fishing (my personal favorite)  and metal detection!
We are really looking forward to the 50th Class Reunion.  I am anxious to see all my classmates.