(In addition to being our friend and classmate, John Browne is a well-known and much-admired Delta blues singer and guitar-player.)
Updated January 10, 2011 with a response from John – scroll down to comments, below

First, here's an article from the PI that originally appeared in the Vashon-Maury Island Beachcomber:

Island musician suffers critical injuries after attempting to remove a tree during the storm.
John Browne, a longtime Islander and nurseryman known for his traditional blues guitar-playing and singing, was critically injured during the height of the snowstorm Monday night while trying to remove a tree that had fallen across a road.
According to his wife Vicki Browne, he went out to 111th Ave. S.W., the road in front of their home in Paradise Valley, after he heard that a towering alder had fallen and was straddling the entire thoroughfare.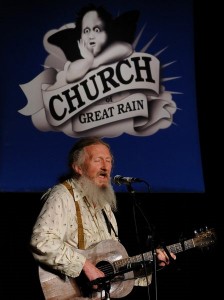 While John was trying to remove the tree, a driver who didn't see him lost control of his vehicle on the icy road and ran into the tree, causing the butt of John's chainsaw to hit him in the stomach and throwing him several feet in the air.
The driver heard John moan, Vicki said; it was only then that he realized another individual was involved in the accident. The driver, a neighbor, was uninjured.
In a series of twists that added to the night's drama, medics who arrived on the scene couldn't airlift John because of the high winds. And because both the upper and lower portions of the West Seattle Bridge were closed, they couldn't take him to Harborview, Vicki said.
Eventually, he was taken by ambulance to Tacoma General, where doctors discovered that he had suffered significant internal injuries and organ damage from the impact of the chainsaw. He also fractured his elbow. He has undergone two surgeries and is in the critical but stable condition in the hospital's intensive care unit (ICU), said Terry Sullivan, a close family friend and part of the Browne's extended family.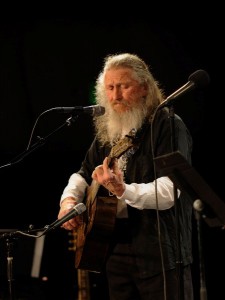 John and Vicki Browne are well-known and much-loved Islanders who have lived on Vashon more than 30 years. Both are fixtures at the Farmers Market, where Vicki sells hand-crafted brooms that won her acclaim on the New York Times' design blog and John sells native plants raised at his sprawling nursery behind their tiny home in Paradise Valley.
John, 67, is also known on Vashon and throughout the region for his music, Delta blues that he sings in his gravelly voice and finger-picks on his guitar. He writes many of his own songs, some of them pointed jabs at environmental or political issues, such as "Cherry Pie," a sardonic look at pesticide use.
(John was active last year as part of the "Church of Great Rain".  Great Rain had been hosting jams at their Lisabeula studio every Sunday morning with a gaggle of island musicians – a gathering which they jokingly referred to as 'church'.  Church moved to The Red Bicycle in October 2008 for 'evening services' once a month and incorporated sketch comedy and variety with the vision of becoming the Northwest's answer to A Prairie Home Companion – with a Monty Python twist.  The result is Church of Great Rain, the music / comedy / variety show show that has taken Vashon Island by storm, drawing near capacity crowds at Open Space for Arts & Community.)
Since news of the accident has spread through Vashon's tight-knit community of farmers, craftspeople and musicians, the outpouring of help and support has been considerable, Sullivan said. People have offered financial help, the use of their car (the Brownes currently don't have a working vehicle) and firewood (they heat only with wood).
The hospitalization will likely put a financial strain on the couple. John has Medicare, which will cover around 80 percent of his hospital costs. An account has been set up at U.S. Bank.
"It's totally overwhelming," Vicki said of the support. It's also critical, she added. "It's going to be a long haul."
Before the accident occurred, Vicki said, she tried to keep John from going out into the storm. Their house is situated in the woods, and the wind was blowing hard, she recalled. Despite her protestations, he was determined to remove the tree, she said.
"John has this really strong sense of helping people. He wants to be the guy people depend on," she said.
In his room in the ICU, a small poster about the patient bears that out. Under occupation, his children wrote: "Native plant expert, musician, good Samaritan."
An account in John Browne's name has been opened at U.S. Bank; the correct US Bank account number for John's donation is 153563730388. You can contrubute at any US BANK branch. At the Vashon branch, you need only mention the John Browne Fund, but others should bring the acct. # along. Vicki would appreciate it if you would email that you donated, so that she can thank you. The Vashon Branch will list you if you request it, other branches probably won't…
---
Here's some more history on John from March 6, 2009 Vashon Island Events:
"When I first heard John Browne play, I thought now there's a guy who really knows how to play the blues. He's the real thing; he and Ricker both are very expressive masters of the blues," says Castle of his fellow players. "They are historians of this type of music and play a lot; they're both true storytellers.
Seattle native and Vashon resident for 25 years, John Browne has played guitar since his teens and picked up the harmonica in the mid-1960's. He lived in San Francisco's Haight-Ashbury district in 1966-67, and played with a jug band called pH pHactor. The group's first paid gig was held at the Matrix where they opened for famous country blues guitarist, Lightnin' Hopkins.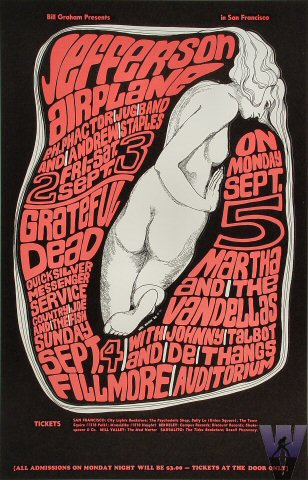 Experiencing the psychedelic moment, they toured with Big Brother and the Holding Company and opened for The Grateful Dead, Quicksilver Messenger, the Byrds, Mothers of Invention, Lenny Bruce and Jefferson Airplane. Their band, pH pHactor, according to Browne, played 20's and 30's street music, a combination of jazz, blues and social protest songs. "It was culturally relevant and a lot of fun," he says. Browne says they recorded an album, but before it was released, the record company was sold along with all its media property. A decade later, the album was released in England and coined as 'an example of the San Francisco sound in the 1960's.' Browne has one of the few copies.
After dropping out of the high energy San Francisco music scene, Browne moved to the Oregon coast where he lived without electricity, started a garden and raised a family. A man of many talents, Browne has driven metro buses, worked as logger, commercial fisherman and for many years helped run Wax Orchard farm. He and his wife Vicki now own Judd Creek Nursery, specializing in native plants.
For the upcoming show, he plans to play some of the Memphis Jug Band tunes, some Gus Cannon and some original music. "I've written enough music to fill an evening myself," he says. His guitar, harmonica and seasoned blues voice brings authority and generosity of spirit to every tune. Browne is a Vashon classic and rarely plays publicly these days. But he has been working on a CD and may have one available for this performance.