Click to see any photos full size. 
Hi to my fellow 61 Bombers.  I'm sorry to say that a scheduling conflict means I won't be able to join you for our 50th.  I do have the tee shirt and love the design!!
Since seeing many of you at our 40th, Jo Ann and I have moved back to Washington.  We met at WSU and since our marriage in 1966, we have wandered the country – St. Louis, Rochester, Washington DC, Chicago, Dallas, Ames Iowa and now Sequim.  My career has focused on improving the quality of health care.  Most recently I've had the privilege of pursuing this interest as a member of the board of Providence Health and Services.  This is a large, not-for-profit health care system based in Renton with facilities and physician practices throughout the west.  Its roots go back 150 years when five Sisters of Providence traveled from Montreal to Vancouver, WA and started serving poor and vulnerable people – a mission that continues today.
I've also been involved with our county library system.  We have 4 libraries across Clallam County, from Forks to Sequim.  With the recession, use has increased substantially so we were gratified that the voters approved a levy increase last year.  This will fund the system for at least 10 years.
It's a joy to live on the Olympic Peninsula.  The beauty is sometimes overwhelming.  Jo Ann and I found a U of W research project that is tracking sea bird mortality rates on Washington's ocean beaches and along the Strait of Juan de Fuca.  It has been a great excuse to survey "our" beach (at the mouth of the Hoh River) at least once per month.  We've learned a lot about sea birds, toxic algae (that killed hundreds of birds a couple of years ago) and enjoyed watching the river and beach change each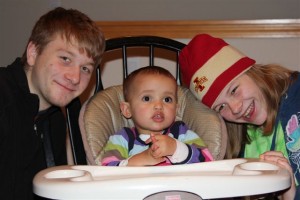 month.  Prompted by our grandson Adam's interest, I returned to fly fishing and have spent many fun hours on the Elwha River trying to entice rainbow trout to my flies.  It will now be interesting to track the changes in the river as two dams come down and the waters return to their natural flow.
Our three kids are doing well.  We have a software developer (Mike), a Head Start leader (Carrie) and a psych nurse (Annie).  Carrie lives in Iowa with her husband (and state Senator) Steve and kids Adam and Maggie.  Annie lives in Seattle with her husband Tesfay and daughter Maya.  Mike lives in Columbus Ohio, but is wishing he was back out here.
Thanks to Jim Yount, Margaret Toner and maybe others, I have reconnected with many of you, either directly or by reading your bios on the 61Bomber web site.  It's been great to see where your lives have taken you.
Have great fun at the reunion.  I'll be thinking of you.
Jim