Click images to enlarge them.
I'm writing this brief bio from Priest Lake, Idaho where my wife, Ellen and I have been able to spend vacation time with our three children Jamison, Mackenzie and Katrin.  I have been coming to the Lake since the early 50's, beginning with my parents, my brothers, Jim and Charlie, and my sister Dorothy.
Following our '61 reunion, I will return to Washington D.C. to begin my 18th year as President of the National Association of Independent Colleges and Universities (NAICU).  The Association's membership includes the Ivy League schools, private liberal arts colleges, church related institutions, and major research universities.  NAICU represents 1000 private, independent colleges and universities on matters (appropriations, tax policy and regulatory issues) before the Congress, Executive branch, the Federal Courts, and the media.  To say that the current 112th Congress has been a wild legislative session is an understatement.  My contract extends to July 2014, and I imagine that the policy and political ride will be even more tumultuous and uncertain.
As president of NAICU, I have occasionally been asked to give the commencement address
at a member institution.  Once I was assigned the topic "How did you get from there to here?"  I think that each of us at this 50th reunion is pondering that question.  After our graduation in June 1961, I attended WSU along with several of my closest friends, Duke Campbell and Jack Glover.  I majored in English, and immersed myself in track, student government, Sigma Nu Fraternity….and even in poetry writing.  My studies in English took me to India on a Fulbright Scholarship.  There, I explored the impact on Mahatma Gandhi of Henry David Thoreau's theory of civil disobedience.  I was enormously impressed by Gandhi's political, economic and spiritual leadership, which lead to India's independence from the British Empire.
The next year I enrolled at Yale Divinity School and the School of Art and Architecture to continue that research.  It was in New Haven that I completed my studies in theology and urban studies, became involved in city politics as an Alderman and later Deputy Mayor, taught and worked for Yale…..and most importantly, met and married Ellen LeGendre in 1969.  She continued her teaching in inner city New Haven for a number of years.  Our three children were born during this period.  Along the way, I worked at Antioch University and completed my PhD at the University of Michigan.
In 1984 we moved to Delaware, Ohio where I served as President of Ohio Wesleyan University for nearly a decade.  We hold very fond memories of OWU and that small community.
Then in 1993, I assumed my current responsibilities as president of NAICU, and Ellen resumed her teaching at Christ Episcopal School.  In June 2010, she retired, and that has provided her the opportunity to pursue her many interests, and to join me in my Association travels.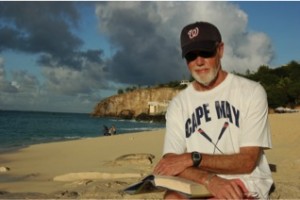 I see in my work the profound influence of growing up in Richland.  We are the fortunate sons and daughters of an extraordinary community.  It provided us an excellent education, safe neighborhoods, and a rich social, cultural and recreational setting.  On several occasions, I have reflected publicly on the remarkable "life chances" and "life choices" Richland made possible.  It shaped us and reinforced the lives we came to live.  My work–at WSU, in India, in city politics, in university education, and in national public policy–has been deeply influenced by my Richland experience.  At every stage in my work, I have tried to recreate in some form those "life chances" and "life choices" –especially for the poor, the marginalized, the by-passed and the disadvantaged.
I'm grateful to Richland, and to my family, friends and classmates for influencing my life and work in such a compelling way.  It will be good to see so many of you again at this 50th Golden Gathering.
Gratefully,
David Warren