Arriving by train in Richland from West Virginia in 1948, I begun looking for wild Indians I just knew would be there – but couldn't find any and still haven't. A few months later, I
began attending Sacajawea grammar school and at the time, I never knew I would eventually be responsible for breaking the right arm off of Sacajawea's statue with a basket ball. She still favors her right arm near the break. At Sacajawea, I learned to sing Christmas carols in Latin and never to paint my face in art class – Mike Brady was responsible for getting me into trouble and still has a paint set hidden for unsuspecting face paintable victims. The punishment was not fun – we had to remove the paint. I also think Mike knocked the basket ball out of my hand. After the break, Sacajawea's eyes use to follow Mike as he passed through the hallway – her eyes followed me too.
Mr. Coelho, Sacy's talented art teacher, put Sacajawea's arm back on and she became whole again. She is currently residing at the Sacajawea State Park inside of the Interpretive Center, Pasco, WA – and yep – she still bears Brady's basketball scar – whoops my basket ball scar.
Little league, Cub Scouts, Boy Scouts and Sand Lot baseball taught me a lot about the area around Richland. I even know some things about Flathead Indians – I think? The riding academy in West Richland, where I learned to ride horses, gave me a better understanding of those cowboys in the movies I saw at the Uptown Theater – weekend after weekend. One summer, Jay Siegel and I watched the original Frankenstein movie at the Uptown 2 or 3 times on separate Friday nights and then had to walk – no run – very fast to our homes. We were both scared out of our wits. Also, Siegel was also the only one I have ever met in my life that could turn his eye lids inside out…very cool! During the Frankenstein movies Jay was not cool when he did that.
Heat, wind, rain and snow afforded the opportunity to experience a lot of things in Richland including Hooky Bobbin and how to survive the summer time mosquito fogging trucks we raced after. Sand storms were nothing "cause" we didn't have to clean house – yea right! Harry Dangerfield – that old lefty could really play baseball. He could bat catch and run with the best of them on a sand lot near McPherson Street and the whole time I couldn't figure out why I caught a lot of baseballs with my face and was generally picked last to play. I didn't know it at the time but I had 22-100 vision so the big E on the Eye Chart was a real challenge. Fortunately glasses, contact lenses and finally Lasik surgery corrected my Mr. MaGoo look.
Hey Harry – show up for the 50th!
Attending Chief Jo in the fall of 1955, I learned why Dee Wallace (60) along with Melvin Brizendine (60) drove people nuts. They, mainly Dee, sang Day-O over and over again in the boy's locker room at Chief Jo. Hey anyone out there remember the Chief Jo duo? The sound reverberated throughout those concrete chambers. I didn't say anything "cause" I was afraid of Melvin – but boy they were sure loud! In addition, they were terrible singers. I played football, track and blew up the Chief Jo pitcher's mound with a pipe bomb. My dad had given me a Chemcraft chemistry set for Christmas. After that, a career as a really "mad" scientist was launched branching out from my chemistry set into the library of bomb and fuse making. Jim Yount's engineering intellectualism was materially responsible for my interest in bomb making although Jim never knew that. Later, during my military career, I astounded my superiors as to the complexity and yet simplicity of making a "bomb". I probably established the model for today's Kopy Kat I.E.D. makers. Hopefully not!
Hey Jim – show up for the 50th!
From this experience, my pre-Unabomber Manifesto days, I learned to carefully evaluate the emotional characteristics of my children before buying them anything that had the word "chemistry" associated with it. Also, during my 2 years at Chief Jo I learned how to drive. Yep, while in Junior High, I learned how to drive. Here's how simple it was. Don Ott's dad would leave the keys to his car in the ignition at night. Don and I would push his dad's car down the street, start it up and drive around Richland. One night we nearly got caught! As we cruised past Vonnie Reed's house for the 50th time, her boyfriend jumped out of his car and nearly made us stop. We drove away very fast. Sadly, a few weeks later, we did get caught when Don's father decided to go visit a friend in the late evening. We suffered a few drawbacks from our "midnight" driving school, like house arrest, but when Don and I went to get our state driver's license, it was a breeze. Who else do you know
could parallel park when they were 13 years old with one arm resting on the driver's door? My dad, who was a former driving instructor, was very impressed with my skill behind the wheel. I never told him the reason for my "skill" but I think he knew.
While in Richland, the freedoms and fellowships I enjoyed have been irreplaceable. But good things sometimes come to an end. In late spring of 1957, my father announced we were moving to California. After many futile protests and saying good by to my friends, I sat sullenly while riding the 900 miles to the San Francisco Bay Area. Our first stop and first home was in Livermore California. A few weeks later my father and I went back up to Richland so he could take care of some business. When I told some of my friends in Richland where I lived they thought it was funny. I quit telling people I lived in "Livermore". A few weeks later, back to Livermore and then a few weeks after that, we moved to Fremont California.
I entered my freshman year at Washington High School in Fremont. It took me a few days to figure out my fellow students were not fans of the University of Washington. Instead, the Washington Huskies of Fremont CA took on a whole new meaning. I played B football my freshman year – and we were called the Puppies. Odd name for a football team. I also played basketball, baseball and track. My sports hero in Richland was Jack Glover – he could do every sport and inspired me to the same. The only thing Jack can't do very well even now is golf – but he is still working on his game. In the spring of 1958 at Washington High School a tall blond hair guy with a prominent jaw approached me and directed me to report to the varsity football team spring practice. I didn't ask any questions and drew my gear and reported. That blond hair guy's name was Bill Walsh. Yep, the future 49er head coach. So, for my next 2 years Coach Walsh drove us into championship form. Walsh was also instrumental in "helping" me obtain a scholarship to play football at San Jose State University – GO Spartans! My dad was hoping for an academic scholarship but I explained to him I was not Tobe Roberts and I am originally from West Virginia. I played one year for the Spartans and after breaking my nose twice, decided the spectator's stands was where I really belonged. Sorry Jack.
Hey Jack – team up with Tiger and learn to play golf!
After graduation, I ended up working for Lockheed Martin, completing a Master's Degree at Pepperdine University and retiring in 2001 from being the Director of Advance Systems Technology also known as the Anti-Ballistic Missile Program. I also spent some time in the Army and Army Reserve. I entered the Army in 1967 as a private and attended basic and
advanced training at Fort Knox Kentucky where I graduated as an Armor Intelligence Specialist and then attended Airborne School at Fort Benning Georgia. After a tour in Viet Nam as a Long Range Reconnaissance Scout (dumb move on my part) I was released from active duty and a few months later joined the California Army National Guard and was commissioned as a 2nd Lieutenant from the California Military Academy, Camp San Luis Obispo in August 1970. Later, I entered Panama with the 4th Psychological Operations Group (Airborne) wondering what a guy in his late 40's was doing in a C-130 getting ready to jump into the jungle (second dumb move). My last military assignment in the mid 90s was Director (for the Reserves) of the Joint Intelligence Center for the United States Special Operations Command at MacDill Air force Base, Florida. This was exciting as I got to see and hear a lot of things that were taking place at the time to include the recovery of Captain O'Grady after he was shot down over Bosnia and a Special Operations team (United States Marine CORPS) went in for the rescue. The reason this was so exciting because I witnessed the entire rescue from a computer screen on my desk (finally a smart move). I retired from the U.S. Military in September 2000 after 33 years. During my military experience, I ran into an old Richland classmate by the name of Craig Lansing (62) in San Jose, CA and reconnected with him at our 40th reunion. Hope to see him at our 50th.
What have I been doing since? Well I have 4 children and 3 grandchildren (so far) and my wife and I enjoy RVing, taking our classic car on road runs with the Bay Area Cobra Club, touring the very scenic San Francisco Bay Area and just going places and visiting our friends. We belong to a few wine clubs near Napa, CA and gulp some red down on occasion with our friends – perhaps gulp is not the right term. I still live in Fremont with my wife Claudia and have been in the same house since 1971 and in Fremont since 1957.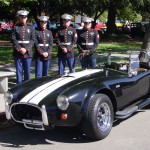 In Richland, we endured being Down Winders, lead based paint, lead toys, polishing coins with mercury and have weathered wind storms, SAND storms, snow storms, desert heat, mosquito fogging and some of us, Chemcraft chemistry sets, but here we are, 50 years later, still walking, talking, smiling and laughing – perhaps a little slower. I appreciate the honor of being called one of your classmates. Go bombers and happy 50th! By the way, Claudia and I are going to visit Sacajawea and I think I have convinced her that Sacajawea's eyes will show astonishment when she spots me. We will see.
Mike – you can join us if ya dare!